The Works
Speaking
Regardless of your politics, the stories are real and the ideas are applicable to your teams, fast-moving or not. I'm still referencing this talk in conversations four years later. -- Brandon Schauer, Head of Adaptive Path at Capital One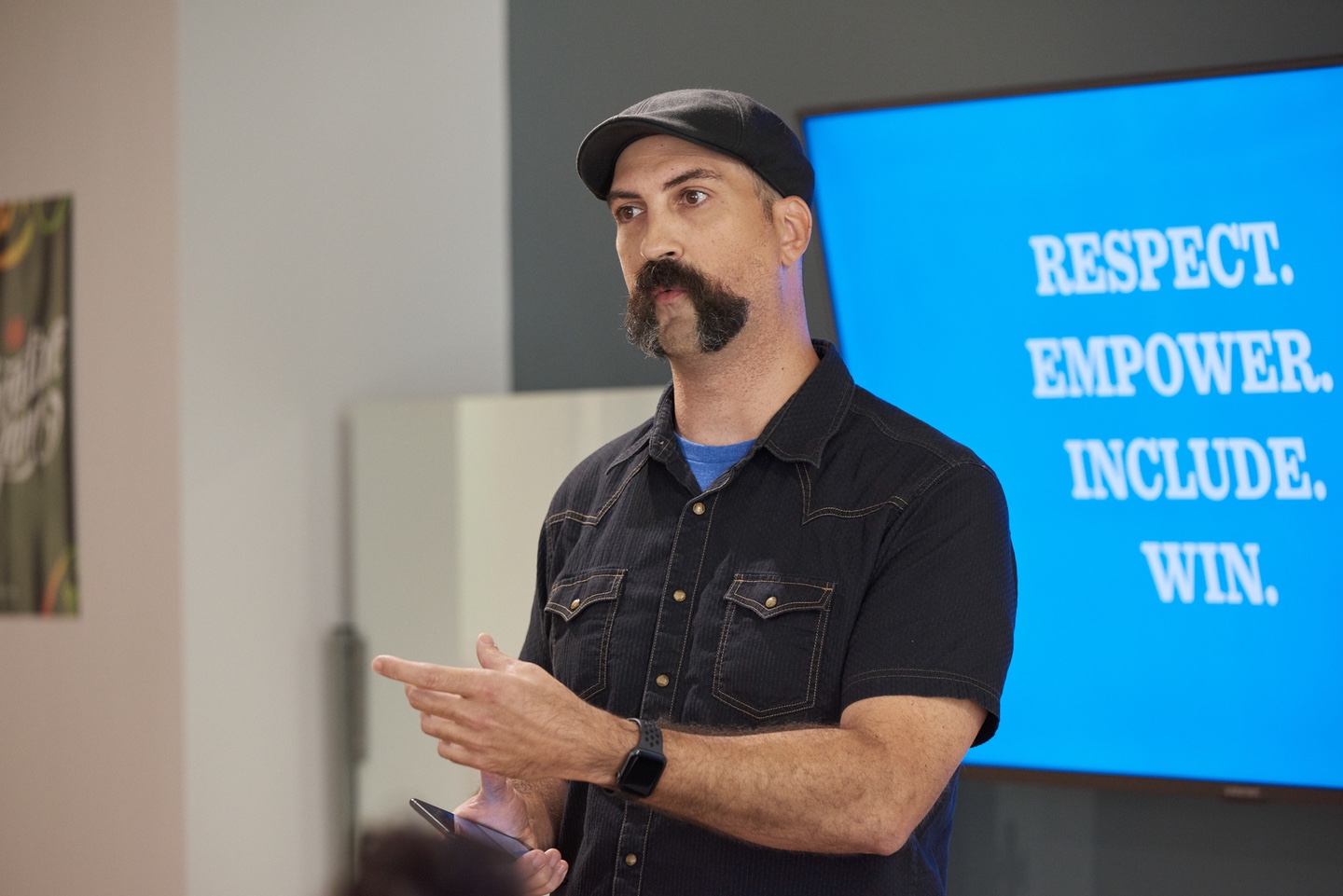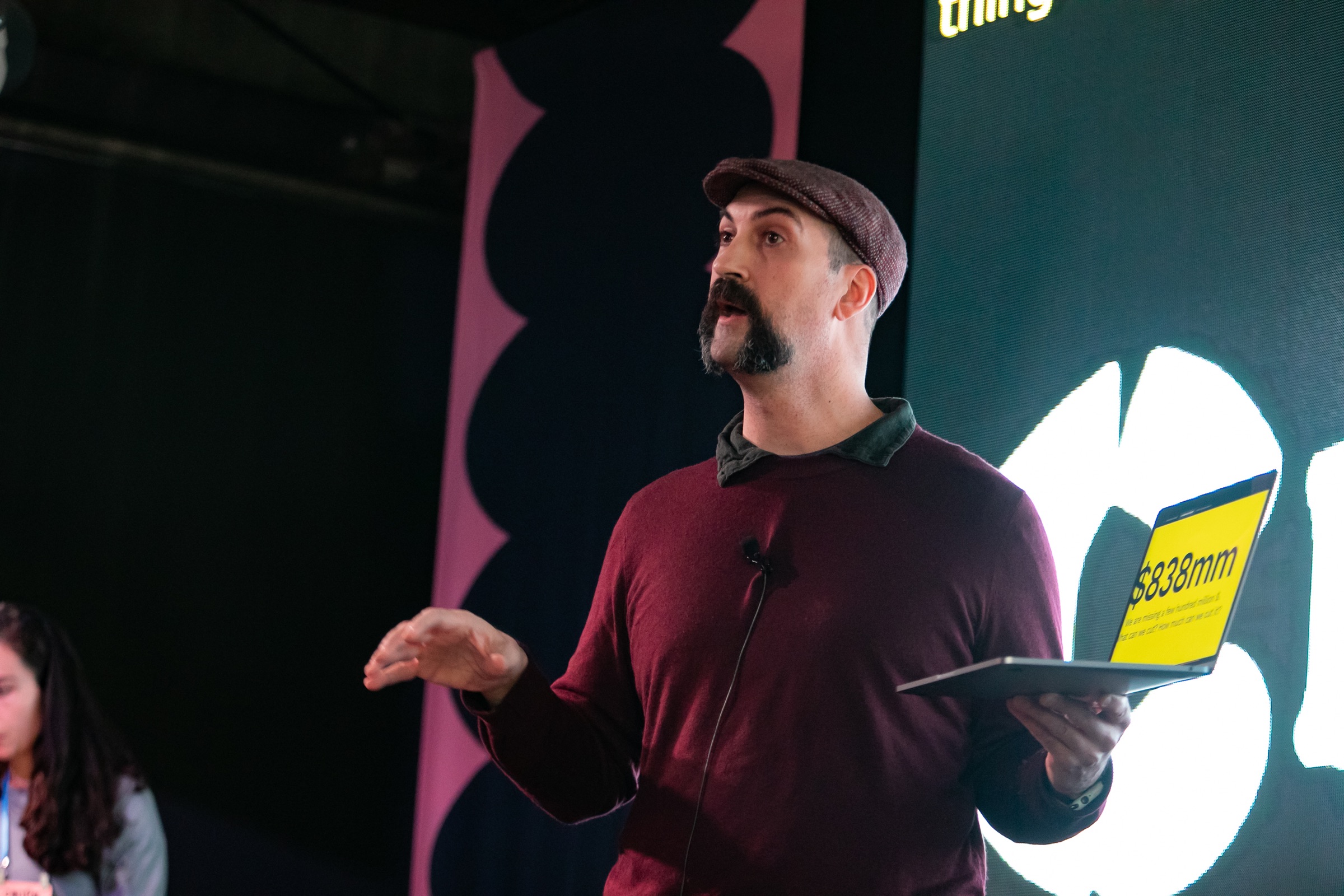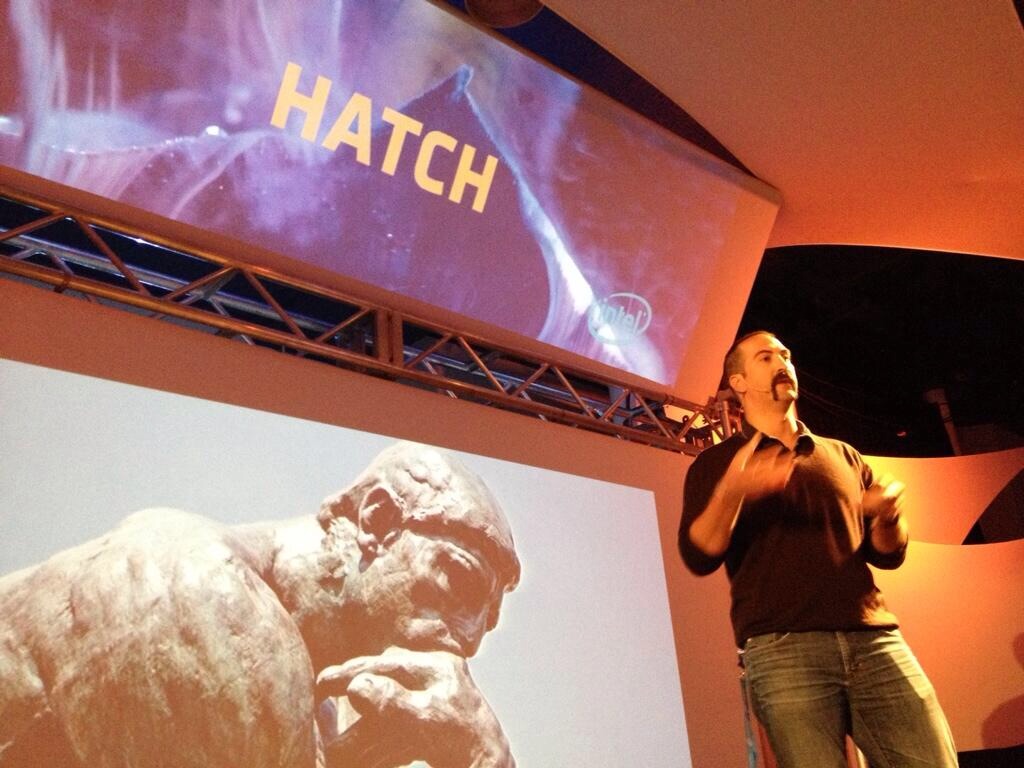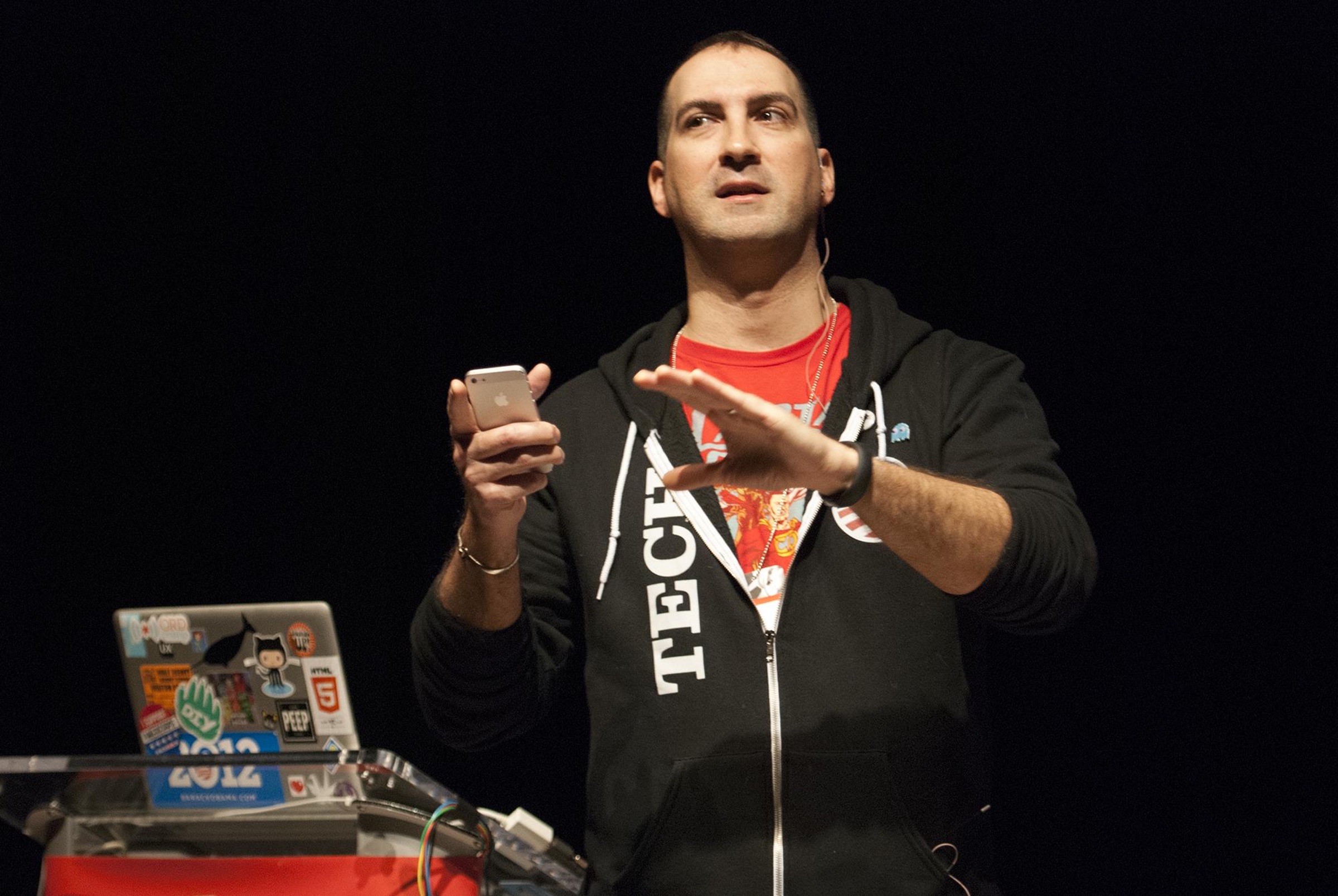 I've spoken at companies, universities, conferences and more.
Contact speaking@kunesh.design at for speaking inquiries.
Representing the City of Chicago in Digital & Physical Spaces
Chicago Graphic Design Club 2021
The 'How' Matters: Design and Resilience
MetroLab Network Summit Panel 2020
Designing with the Public: How Figma Empowers Chicago Digital Services
Config 2020
The Dreaded I Word - Real Talk about Delivering Innovative Work
Digital Government Summit 2019
Design Thinking in Civic Service
SF Design Week 2019
Startup Coach
Higher Ground Labs Accelerator 2019
Tall Tales & Short Thoughts About Data-Driven Human Centered Design
Adobe Creative Jam 2019
Emcee & Facilitator
ThinkChicago 2019
A Small Team @ Civic Scale
Design for America Summit 2019
Chat with students
Northwestern University Medill Journalism School 2019
Impact @ Scale: More? Better?
Design for America Summit 2018 Leadership Symposium 2018
Borderless: Design for Public Services
Service Design Day 2018
Human-Centered Design in Government
Digital Government Summit 2018
Keynote Conversation with the City of Chicago's Danielle DuMerer, CIO, and Jason Kunesh, Design Director, moderated by Russ Unger
Chicago Camps 2018
Human Centered Design at the City of Chicago
NETT Day at Northeastern Illinois University 2018
Leveraging The Value Of UX Panel
UXD Chicago Meetup 2018
City of Chicago's First Design Director
Chi Hack Night 2018
Emcee & Facilitator
ThinkChicago 2018
What is a Future Design Cooperative?
Chicago Design Week 2017
Design Advisor
Designation 2017
Social Enterprise Real Talk from the Field
South by Southwest (SXSW) 2017
Design Chicanery at Obama for America
The American Association of Law Libraries 2016
Civic Networking - Evolving Approaches to Online Organizing
Institute for Leadership and Service Pathways to Purpose series 2016
How to be a Designer CEO at a Startup without Being a Jerk
Chicago Camps 2016
World IA Day 2015
The Beacon Lounge: Do Good Dialogs
South by Southwest (SXSW) 2014
W3C Web at 25 2014
Keynote
Prototype Camp 2014
Rules of Engagement - The New Face of Giving
JP Morgan Chase 2014
Design Chicanery at Obama for America
UX Week 2013
In the Loop: Jason Kunesh
IIT Institute of Design In The Loop Series 2013
Design Advisor
Starter League 2013
Digital Organizing at Obama for America with Dan Ryan & Jason Kunesh
Mobile Summit 2013
Design Chicanery at Obama for America
Tech Talks at Google 2013
Design Chicanery at Obama for America
BAYCHI 2013
Do Gooder lounge
South by Southwest (SXSW) 2013
Participant
IxDA Value of UX Panel at Groupon 2013
10 Lessons Learned from Obama for America
Refresh Chicago 2012
Jason Kunesh Talks About Designing for Humans Youth
1871 2013
Design Coach, Lightning Talk
HATCH 2013
Design Coach & Participant
UX for good 2013
Web Visions 2013
Design Facilitator
UX for Good 2012
Design Business Growth Happiness
The D Conference 2012
Levels of Design
UX for Good 2012
College of Digital Media Panel on Mobility
DePaul University's College of Computing & Digital Media Corporate Technology Breakfast 2012
Design Context Clues
IA summit 2008
Rails + AJAX and Universal Design
Railsconf 2006
It Makes Sen$e - The User Research Practice in My Experience at Orbitz
World Usability Day 2005
Press
My work has been featured in the Atlantic Monthly, BusinessWeek, the Chicago Tribune, Forbes, the New York Times, Rolling Stone, TIME, the Wall Street Journal, WIRED and others. I am good at explaining the impact of innovation on culture.
Contact hello@kunesh.design for press inquiries. press kit
Cannes Festival Awards Chicago With 15 Lions For Branding Work From 'by Chicago. For Chicago.' Partners
City of Chicago 2021
City Announces Launch Of New Chicago Design System On City's 183rd Birthday
City of Chicago 2020
Chicago's New Brand Identity Could Save The City $10 Million A Year
Fast Company 2020
Chicago's New 311 System Is A Huge Win For Public Works
WIRED 2019
A Distributed Government By The People, For The People
CityLab 2019
WBEZ 2018
New 311 App Allows Chicagoans To Report Potholes, Rats Or Employer Wrongdoing Anonymously — And Track City Response
Block Club Chicago 2018
Why Chicago Added A Design Office To City Hall
GovTech 2018
How Some News Outlets Let Readers 'take Action' With A Click
WTTW 2018
Jason Kunesh Of Public Good On How Bands Are Just Like Startups
2017
Smashing Magazine 2016
Tech Developer Talks Civic Good
the Valparaiso Torch 2016
Be like Peter 2016
8 Tenets Of Good Company Culture—does Yours Have Them?
Success 2015
5 Things I Wish I Knew As A First Time Ceo
5 in 60 2015
Public Good Offers Digital Backbone To '#ilgive' Campaign
Chicago Tribune 2015
WNET Metrofocus 2015
Jason Kunesh Of Public Good Software
WGN Radio 2014
Can A Like Button For Doing Good Create A More Caring Internet?
Motherboard 2014
Introducing Public Good Software–a New Way To Turn Articles Into Action
Chicago Reader 2014
Built in Chicago 2014
Obama Campaign Veterans Launch Hub For Charitable Giving
Chicago Tribune 2014
Jason Kunesh On Building A Community For The Public Good, Simplifying The Complex And Working For Obama
Podchaser 2014
Chicago Camps Podcast Interview
Chicago Camps 2014
Ex-obama Techies Hope To Do Well With Public Good
Crain's 2014
Dream Jobs You've Never Heard Of- Director Of User Experience For Obama For America Campaign
WIRED 2013
Atlantic 2013
Public Good Software Lands 1 Million Seed Funding
Tech President 2013
Lumpen Times 2013
A Conversation With Jason Kunesh
Adaptive Path 2013
Rolling Stone 2013
The Billion-dollar Startup: Inside Obama's Campaign Tech
Dice 2013
Obama's Campaign Quick To Capitalize On Text-to-donate Option
Roll Call 2012
Quick Donate Transformed Political Fundraising In 2012
Mashable 2012
For Startups, Design Is The New Competitive Advantage
Forbes 2012
Mayo Clinic 2012
Various Web 1.0 & Entertainment Media.
1997
Awards
I've worked with awesome organizations from A to Z including: 3M, American Airlines, the Chicago Field Museum, the Clinton Foundation, the Dali Lama Center, Edelman, Emory University, Fellowes Manufacturing, GE Healthcare, Giant Bike, The Grammy Foundation, IBM, Intel, Jabber, LeapFrog, Lockheed Martin, the Mayo Clinic, McDonald's, Microsoft, the NFL, NORC at the University of Chicago, New York Presbyterian Hospital, SAP Fieldglass, Simon Properties, Threadless, United Airlines, UX for Good, Walt Disney Corporation, and more.

Cannes Lions International Festival Award

Cannes: The One Show 2021 2021

100 Best Typographic Works 2021

Society of Typographic Arts 2020

Moxie Awards 2017

People's Choice Award- Ux For Good New Orleans

Interaction Design Association 2013

Best In Category - Connecting, Obama For America Mobile Campaign

Interaction Design Association 2013

Breakout Of The Year - Obama For America Digital Campaign

Webby Awards 2012

New York Presbyterian Mynyp.org Hospital Patient System Leadership Award

eHealthcare Awards 2009

Mayo Clinic Health Manager Best Health/healthcare Content - Silver & Best Overall Internet Site - Distinction

eHealthcare Awards 2008

Orbitz For Business Named Industry's Best In Ease Of Use

Business Traveler 2003-05

Chicago Innovation Award 2004

Chicago Field Museum E-commerce Site Named Top 10 Museum Online Store

USA Today 2002

`